Getting to Montréal
By Plane
Montréal Trudeau Airport (YUL) is located 20 km west of Downtown Montréal. The airport is a major hub for Air Canada and Air Transat. Note that you will be required to clear Canadian customs at your port of arrival. If you have a connection in another Canadian airport, please leave enough time between your connecting flights in order to clear the customs. From Trudeau airport, you can get to downtown either by taxi ($40 flat rate, with a 10-15% tip being customary) or by the 747 shuttle bus service ($10 which includes a 24h subway and bus pass). The 747 route features 11 downtown stops conveniently located near major hotels and takes approximately 25 – 30 minutes each way, depending on traffic.
By Train
VIA Rail Canada serves more than 450 Canadian cities. If you are coming from the United States, hop aboard an Amtrak train, with daily departures from several American cities to downtown Montréal. Visitors pull into Montréal's Central Station, which is conveniently linked to the Underground Pedestrian Network and the Bonaventure metro station.
By Bus
If you are planning a trip by bus, many American and Canadian operators come to Montréal, including Greyhound and Orléans Express. You will arrive directly downtown at the Montréal Bus Central Station, which is also connected to the Underground Pedestrian Network via the Berri-UQAM metro station. Cities in the Toronto-Montréal corridor are also served by Megabus with its bus stop located at the Bonaventure metro station.
Getting to École de technologie supérieure (ÉTS)
Most of the conference activities are held in Pavillon E (1220, rue Notre-Dame Ouest). The registration desk will be set up in the main entrance of Pavillon E on Tuesday July 16, 16:00 to 18:00 and Wednesday July 17, 8:30 to 9:00.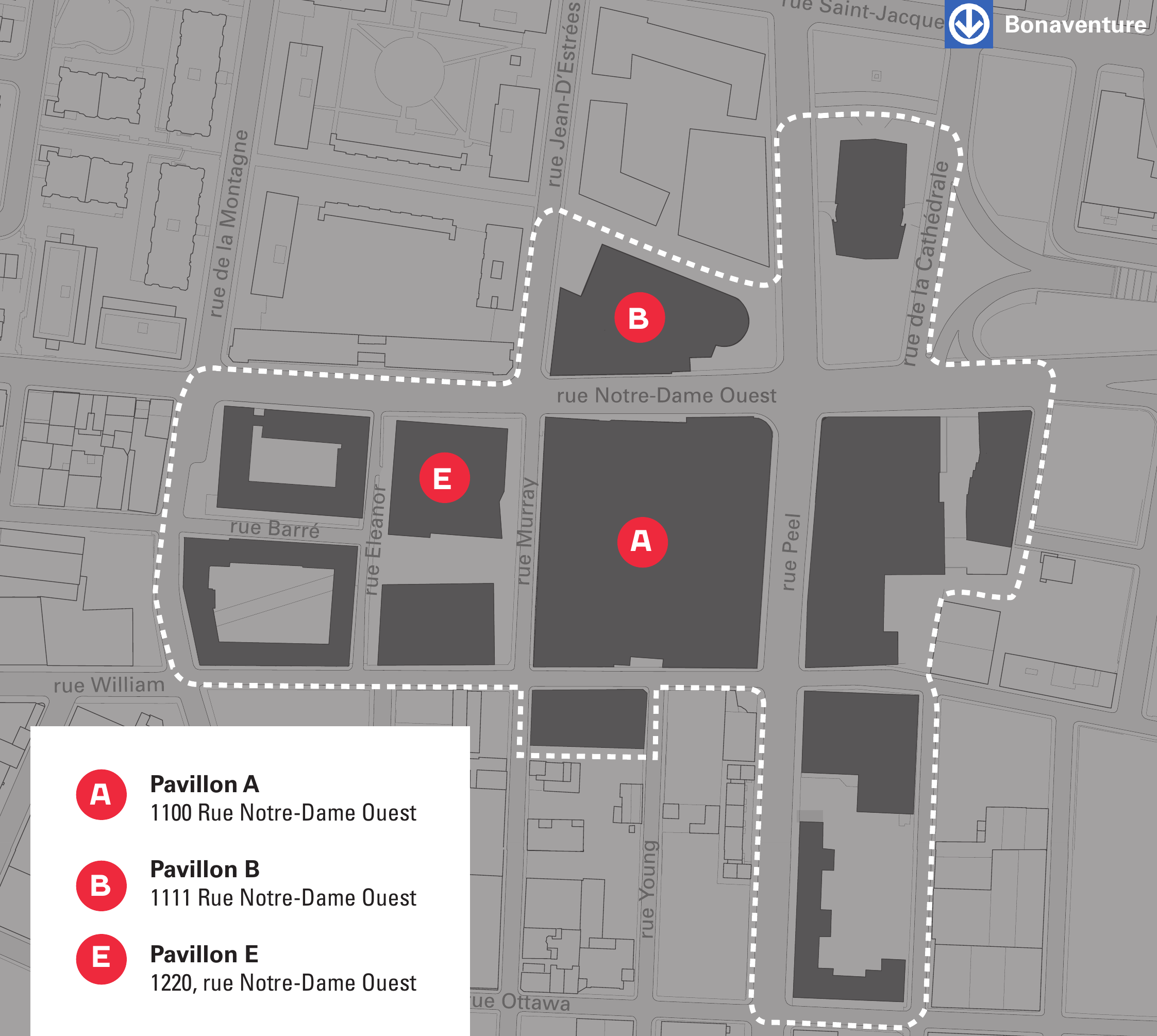 By Transit
The Société de transport de Montréal (STM) is in charge of the metro and bus networks. There are numerous fares available depending on your needs. ÉTS is conveniently located at a 10-minute walk distance from the Bonaventure metro station (orange line). Exit to rue de la Cathédrale and go downhill along this street until you reach rue Notre-Dame Ouest. You will see the ÉTS buildings on your right.
By Bike
Montréal's ever-expanding bike path network has been named one of the most bike friendly in North America by the Copenhagen Index. You can easily rent a bike with Montreal's BIXI system. There is one station on campus and others nearby. Among the most scenic bike paths is the Canal Lachine multipurpose path, which runs for almost 15 kilometres along a still-functioning boat canal. The path is only a few minutes away from the campus and it is nice way to reach the Old Port and Vieux-Montréal.
By Car
Due to multiple construction sites, driving around ÉTS can be laborious. If you ever decide to drive to the conference, indoor parking is available at ÉTS for $15 per day (or $0.08 $/minute). Visitors are welcome to park at any time in Pavillon B (access via rue Jean-d'Estrees) or in Pavillon E (access via rue Eleanor).